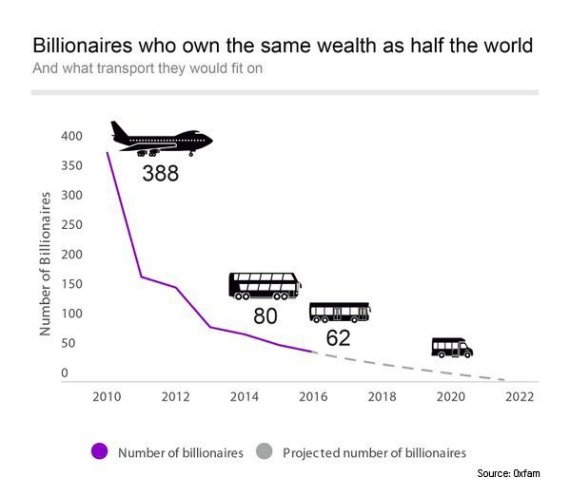 The 62 richest people:
Bill Gates, Carlos Slim Helu, Warren Buffett, Amancio Ortega, Larry Ellison, Charles Koch, David Koch, Christy Walton, Jim Walton, Lilian Bettencourt, Alice Walton, S. Robson Walton, Bernard Arnault, Michael Bloomberg, Jeff Bezos, Mark Zuckerberg, Li Ka-shing, Sheldon Adelson, Larry Page, Sergey Brin, Georg Schaeffler, Forrest Mars, Jr., Jacqueline Mars, John Mars, David Thomson, Jorge Paulo Lemann, Lee Shau Kee, Stefan Persson, George Soros, Wang Jianlin, Carl Icahn, Maria Franca Fissolo, Jack Ma, Prince Alwaleed Bin Talal Alsaud, Phil Knight, Steve Ballmer, Beate Heister & Karl Albrecht Jr., Li Hejun, Mukesh Ambani, Leonardo Del Vecchio, Len Blavatnik, Tadashi Yanai, Charles Ergen, DiIip Shanghvi, Laurene Powell Jobs, Dieter Schwarz, Michael Dell, Azim Premji, Theo Albrecht Jr., Michael Otto, Paul Allen, Joseph Safra, Anne Cox Chambers, Susanne Klatten, Pallonji Mistry, Ma Huatend, Patrick Drahi, Thomas & Raymond Kwok, Stefan Quandt, Ray Dalio, Vladimir Potanin, Robin Li
************************
"No one credible will say this is good for the world or good for the economy."
All the money in the world is growing ever more concentrated in the hands of just a few people, a report released Sunday night makes clear.
Just 62 ultra-rich individuals -- a
list
that is primarily made up of men and includes Bill Gates, Warren Buffett, the Koch Brothers and the Walmart heirs -- have
as much wealth
as the bottom half of humanity. Five years ago, it took 388 rich guys to achieve that status.
The wealth of the richest 62 has increased an astonishing 44 percent since 2010, to $1.76 trillion. Meanwhile, the wealth of the bottom half of the world dropped by 41 percent.
"This is terrible," Gawain Kripke, Oxfam's Policy Director, told The Huffington Post. "No one credible will say this is good for the world or good for the economy."